The Mk1 is the initial product by T-up© Golf.
The idea to create this device was born after a training session on a classic automated driving range. 
Not having to care about teeing up the ball and transferring the practice swing's rhythm onto the ball while keeping posture and grip created a lasting impression and led to the wish to have something similar to use on every driving range.
The result is a beautiful designed device of high quality materials with a patented mechanic.
Engineered, designed and built in Germany!
This device is meant to be used everywhere on the driving range, fitting centers or training lessons with golfpros. Take advantage of all the possibilities  this device develops and provides!
Overview:
- Takes up to 35 balls
- 1000+ balls with one battery charge 
- Manual mode; ball is served by a simple gesture with a club
- Sequence mode;  a certain amount of balls is served in a certain time interval (individually adjustable)
- Acoustic support by adjustable metronome
- Places balls on all tee heights, hitting mats, short grass and green

Make your practice terrain a 21th-century-like one!
With the T-up© Mk1 you provide your clients a great opportunity to practice on an automated driving range anywhere on the golf course - not only from the hitting mat!
The Mk1 can even be used in the chipping area or on the practice greens.
With way less financial input compared to a classic automated range you give your customers even more and on top of that you separate your facility from other competitors.

Fitting golfers and providing them with the best equipment possible became more important than ever in the last few years.
Concentrate on your business and let your customer concentrate on his impressions about the clubs he is testing.
Let the Mk1 do the rest for you! Besides that, it even provides the best results possible when tracking balls, because the device makes sure that every ball is played from the exact same position, even when it is not played from a tee.
For golf lessons, using the Mk1 has several advantages, depending on the skills of the student.
Basically the device supports every part of teaching golfers of all performance classes.
The golf professional can concentrate on observing the student and filtering informations about the swing that occur when repeating shots in a sequence. But also teaching the absolute beginners is way more effective and comfortable, since the student can keep posture and grip which makes it more easy to learn the basics of the golf swing. 

If you want to get a device for your private use you will find your personal training buddy for almost every situation:
- Driving range
- Backyard hitting net
- Backyard chipping/putting area
- Basement indoor training facilities
- Golf Simulators
No matter what kind of skill level you are, take advantage of the Mk1:
- Beginners are able to keep their grip and hold their posture, which is hard enough at the beginning. Like in other sports, repetition and recreation helps to improve your skills way faster and is now possible with the Mk1 - anywhere, anytime.
- The average handicap golfer can concentrate on fine tuning their posture and working on rhythm and timing with the sequence mode. Even the basics of shaping can be practiced in an easy way.
- Low handicappers can completely focus on the ball, complete their training with rapid fire sessions and demand themselves with shaping different shots in sequences to increase their overall skills.  

Golf should not exclude anybody. Even injured, disabled or handicapped people love golf and want to enjoy it.
Though the Mk1 is a training device in the first place, it also helps people to enjoy hitting golf balls who are not in a perfect health condition.
The Mk1 avoids unnecessary bending to the ground after every ball and the user remains in a comfortable posture. 

Please contact us via
info(at)t-up-golf.de
for prizing and shipping information. 
All business customers may ask for our attractive leasing packages which provide Mk1 devices in several bundles with a five year warranty and free exchange devices.

Dimensions: 224x224x570mm (8,8x8,8x22,4 inches)
Weight: 4,7kg (10,3 lbs)
Housing: Powdercoated aluminum
Ballcradle: Impact-resistant PE-HD 
Mechanics: Stainless steel /ABS
Electronics: High quality parts / Li-Io batteries
---
Bedienungsanleitung Deutsch
2018.02.01 T-up Bedienungsanleitung DE P
Adobe Acrobat Dokument
638.9 KB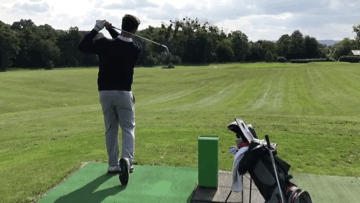 ---